Can I be perfectly honest with you? I am not in the mood for real preamble. The fan in me is still trying to digest. So I will jump right into my picks. Then, we'll chat about this, that and the other.
For your reference, my picks:
Cat Zingano Vs. Ketlen Vieira – This one was painfully predictable. I love Cat Zingano. Love her aggression and game. It does seem like she is still fighting yesterday's fight though, where many of her possible opponents decided it was time to stop proving WMMA's worth to men, and start looking to make their game complete. Not that Vieira's game is complete, but as she showed last night, she can go to the tool box and dig deeper. A surprising aspect of this fight for me was, that Cat – having lost to Rousey by recklessly charging into her Judo's wheelhouse – continued to do the same against Vieira. And not once or twice. I don't think Cat is chasing a title, so perhaps different styles might fit her bill better. 1 for 0.
Andrei Arlovski Vs. Stefan Struve – This was one of two fights I fully expected to end with some kind of finish. I was also going with Struve's reach advantage. I was also ignoring the fact that just like charging recklessly is "Zingano's thing", so is Struve's strange refusal to use those arms and legs to control the distance in his fights – his thing. Arlovski closed in on him at will, landed shots to body and head, and took him down. By closing the distance and doing some impressive wrestling work, not only did Andrei win, he also removed the possibility of a finish from the table. 1 for 2.
Andre Soukhamthat vs Sean O'Malley – At the end of the third round, something happened to O'Malley's leg and Andre had a choice. keep the fight standing or on the ground. The Asian Sensation started the fight very tentative, allowing O'Malley to dominate him for a full round. Perhaps he was trying to time this unpredictable kid. Perhaps it's something else. The fact remained that Sean landed consistently and cleanly, wobbling him twice before the bell. The second round was surprisingly lacking urgency from Andre and I was beginning to wonder if there is an injury there, limiting his movement. The third ended, as mentioned with a choice. As was likely destined to be, Andre made the wrong one, taking O'Malley to the ground, practically giving him a pass, where keeping it standing would be very likely to end by a TKO win for him. Andre will learn from this, and Oh my, O'Malley. I will give him more credit going forward. I really underestimated his resourcefulness. But no more. Excited to see both these guys progress. 1 for 3.
Frankie Edgar Vs. Brian Ortega – The people's main event. Having gotten to the co-main event with a whopping 1 out of 3, I was comforted in the knowledge that Frankie is going to do work, and for about 4 minutes he did just that. Classic Frankie Edgar, out-pacing, out-working, out-striking the kid. Taking Ortega to school. Everything was going according to plan. Then, a counter from Ortega landed perfectly, making Edgar pause. Now T-City was presented with an opportunity. If you've followed Ortega's fast climb to stardom, you'd know that he is nothing if not an opportunist, and I mean that as a great compliment. Instead of hesitating when facing greatness, T-City went for the kill and then came that uppercut that will resonate for a long time. Frankie Edgar has been finished in a fight. How many great names tried and failed? This is NOT Serra catching GSP. The fact that Ortega won – in itself – isn't a shock. The fact that he knocked Frankie out is what will elevate him to a whole different level. Max will be cool and say that he's up for anything etc. But you know what he must be thinking right about now… If this kid can do that to Edgar… welp. 1 for 4.
Cris Cyborg Vs. Yana Kunitskaya – It will likely take longer for me to write this sentence, than it did for Cyborg to Cyborg her way to an easy victory. 2 for 5.
I thought this would be my worst prediction night. Well, sadly… it was not. And Frankie…. Not the greatest night of my MMA fanhood.
Aaaaand NEW:
Mackenzie Dern joined the UFC. Hopefully that fight will help cool the unnecessary comparisons to Ronda Rousey. The similarities are obvious. Great BJJ, horrible striking game. But that is where I believe they end. For one, she seems like a genuinely nice person. She also didn't have a great fight to start, not a title shot. She did get the win, which sanded some panties around the internet, but it's pretty clear she will get a different treatment. The UFC will schedule her (hopefully) with more patience, and the crowd (casuals and "UFC fans" alike) who loved the bad attitude of Ronda will likely continue to focus on Dern's accent and… physique. I'm looking forward to seeing Mackenzie improve over time, learning new skills, mostly the lost art of the takedown.

 Sean O'Malley – We've seen him before, but this was a pretty good test for his skills and he passed it – as he does – with flying colors. An exciting fighter to watch and also an interesting guy to follow as he faces increasingly tougher competition. How deep is his tool box? Can't wait to see.

You read it here first (or second, or 15th) – Brian T-City Ortega will be the next Featherweight champion. It may not happen right away, but it will happen. I'm on board the T-City train. Not that I thought he was all hype before, not by a long shot. The credibility a win over Edgar gave him is but the final stamp on his claim to fame. He will not be denied.
Aaaaand STILL:
I have a splitting head ache from all those split decisions… We might have said all there is to say about judging. One of them thought Zingano won her fight. I will leave it at that.

Apparently, someone from O'Malley's corner spent 15 minutes trash talking Andre Soukhamthath. I have two things to say about that. One – that's really unprofessional and completely in opposition of martial arts and what they stand for. Second – Why don't you spend 15 minutes doing your God Damned job – giving your fighter advice? Unless he WAS doing his job, in which case I am disappointed… but hey, it's just little ole me.
I have nothing to say and nothing to explain. I lost the fight and I take it like a man. I must say tho, I have never competed against such a disrespectful/unprofessional corner. Literally talking shit to me during the whole 15 min fight. I think it was just 1 guy tho.

— Andre Soukhamthath (@AndreSoukMMA) March 4, 2018
Performance of the night: That's a very easy call. Brian Ortega doing the unthinkable.
Fight of the night: Sean O'Malley Vs. Andre Soukhamthath.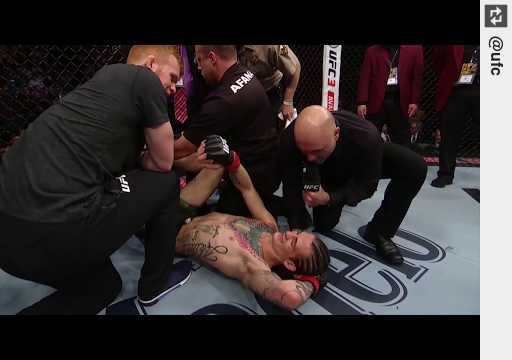 Don't forget to check out Combat Docket for more good reads and post UFC222 fallout.