Welcome to the AftreMMAth of the AfterMMAth of what was UFC223, last night in Brooklyn, New York. Normally we do picks before, then review them here.  But see, in order to make picks one has to know which fights one needs to pick, and that aspect of the whole thing was as stable as Conor McGregor's state of mind. So, no picks for you! But we will chat about this, that and the other. (All credits go to UFC/WME-IMG for all photos.)
Joe Lauzon Vs. Chris Gruetzemacher – In my post about the 5 most likeable UFC fighters Joe Lauzon was absolutely one no-brainer. One of the early birds of the new generation of fighters, but also – perhaps more significant – one of the most game fighters in the history of the sport. Respectful, very skilled, and never one to disappoint. I have yet to see a boring Lauzon fight, but last night I've watched a very sad one. Lauzon was battered non-stop, couldn't take his opponent down, and lost pretty much every aspect of the two rounds, after which his corner, rightfully stopped it. Because I love Joe so much, I'm hoping he decides to retire from active competition, and instead shifts his extremely deep pool of talent and knowledge to raising a new generation of fighters. Let's not remember this last fight, but the plethora of amazing shows he provided us with throughout the years.

Zabit Magomedsharipov Vs. Kyle Bochniak – If you let the shenanigans and card shuffles of this past week depress you enough, as to not watch this card, well… Joke's on you. Everyone should by now know Zabit is one talented fighter with a promising future, and if you haven't seen him yet, go look for some highlights. I won't spend much time discussing his obvious skills. Instead, I'd like to say that what really impressed me in this fight of the night winner was Zabit's ridiculous posture. Ridiculous as in, amazing. Bochniak's game was based on pressure, and I was surprised he kept that pressure for so long, considering how many power shots he threw and missed. In the face of these, Zabit looked completely calm, moved out of the way, countered, threw some fun spinning attacks and kept scoring. For a "prospect" he looked like a veteran. I'm sure he will face adversity in the future, but man are you not excited for said future?
Renato Moicano vs Calvin Kattar – It definitely sucks to walk into the cage at the heels of the fight of the night… Kattar started the fight very well, connecting with some nice combos and moving forward. Somewhere towards the middle of the first round though, Moicano timed him completely. What took place from that point on was Moicano avoiding pretty much everything thrown at him, countering then initiating with high percentages and methodically dismantling Kattar's left leg, all around the knee. Moicano is now 12 and Ortega and for a damn good reason. Imagine this fight without Zabit's show before… this was a very good fight. Another very good one on this "cursed" card.
Rose Namajunas Vs. Joanna Jedrzejczyk – As the fight progressed, it became more and more obvious that we're heading towards a judge's decision that would split the fight nation into two. I am famous for being a fanboy of Rose's. That being said, I don't think the decision is very controversial. I heard the strike advantage argument and if that's what a fight was being scored by then sure, I get the frustration. However, MMA fights are scored based on individual rounds and on more than striking. I saw round 1 and 5 as clear rounds for Rose. She landed more, better shots, pushed the action more. I see a strong case for rounds 3 and 4 being JJ's. Which leaves us with round 2. Now we're looking at a very close round in a very close fight. Now we ask – who gets the nod? In a title fight this has to go to the champion because it is up to the challenger to take it from her. In the two fights they had, Joanna did not prove that she is the better fighter. She was knocked out in the first and – although fought very well – did not do enough to convince me (let alone the judges) that she won. This is the present, whether we like it (I do) or not.
Khabib Nurmagoemedov Vs. Al Iaquinta – I was absolutely sure they will switch main and co main events… Rose Vs. Joanna was by far the more legitimate title fight but… you know. Not sure what to say about this fight. Kudos to Al for escaping every back mount? I guess that's a good takeaway. I heard people being wow-ed by Khabib's "improved" striking game. Well, that was one area that could really only be tested against guys like Tony or Max. Both are technically superior to Khabib in that department. If there was one part of this card that was severely messed up, this was it. Khabib is an awesome fighter, don't get me wrong. But while we're all (rightfully) ragging on Conor for being a "champion", I think even Khabib knows he needs to do at the very least one more thing in order to legitimize this. It's not his fault. In fact I respect the fact he stuck around waiting for one opponent after the other to show up.
Aaaaand NEW:
Dear Khabib – that call out for GSP was very amusing and I can't blame you for throwing it our there. Could generate a lot of dollars to all parties involved. But as far as fighting is concerned, you are way off. Georges's striking is not on a different level, it is from another planet. Georges is bigger and very likely stronger. He would not hesitate taking Khabib down, and has the movement and skills to avoid many of Khabib's excellent traps. It would be a glorious way to lose of course. Main eventing in the Garden.

 Zabit Magomedsharipov – I hope Zabit enjoys a career, as long as his last name at least. What a fun fighter to follow. Can't wait to see some of these fights twitter is exploding with. Everyone of them, a good test and a potential FOTN.
Aaaaand STILL:
I really don't think Andrade can be denied the shot. KK had a phenomenal outing in 223, but she can wait one more fight for what should be a great fight. If Rose can overcome both these fine ladies that would put her in the discussion for being the top straw-weight of all time.

And Joanna? Where does she go from here? This loss puts her at the back of the line. Does she have the motivation to go through that division again? Is she willing to step into Shevchenko's backyard at 125? She said that she used to fight very comfortably at Fly-weight. I would like to see her making that move. That would put her very quickly back on the winning side and the inevitable title fight with Valentina is more interesting to me than a rematch with some of the fighters she already dominated in the past. But hey, that's just me.
Performance of the night: Again, a very easy call, although a very sad one. Chris Gruetzemacher possibly retiring Joe Lauzon.
Joe Lauzon's corner stops the fight after being pieced up by Chris Gruetzemacher. #UFC223 pic.twitter.com/ZWpg6vNnVR

— UFC 223 on BT Sport (@btsportufc) April 8, 2018
https://platform.twitter.com/widgets.js
Fight of the night: Zabit Magomedsharipov Vs. Kyle Bochniak.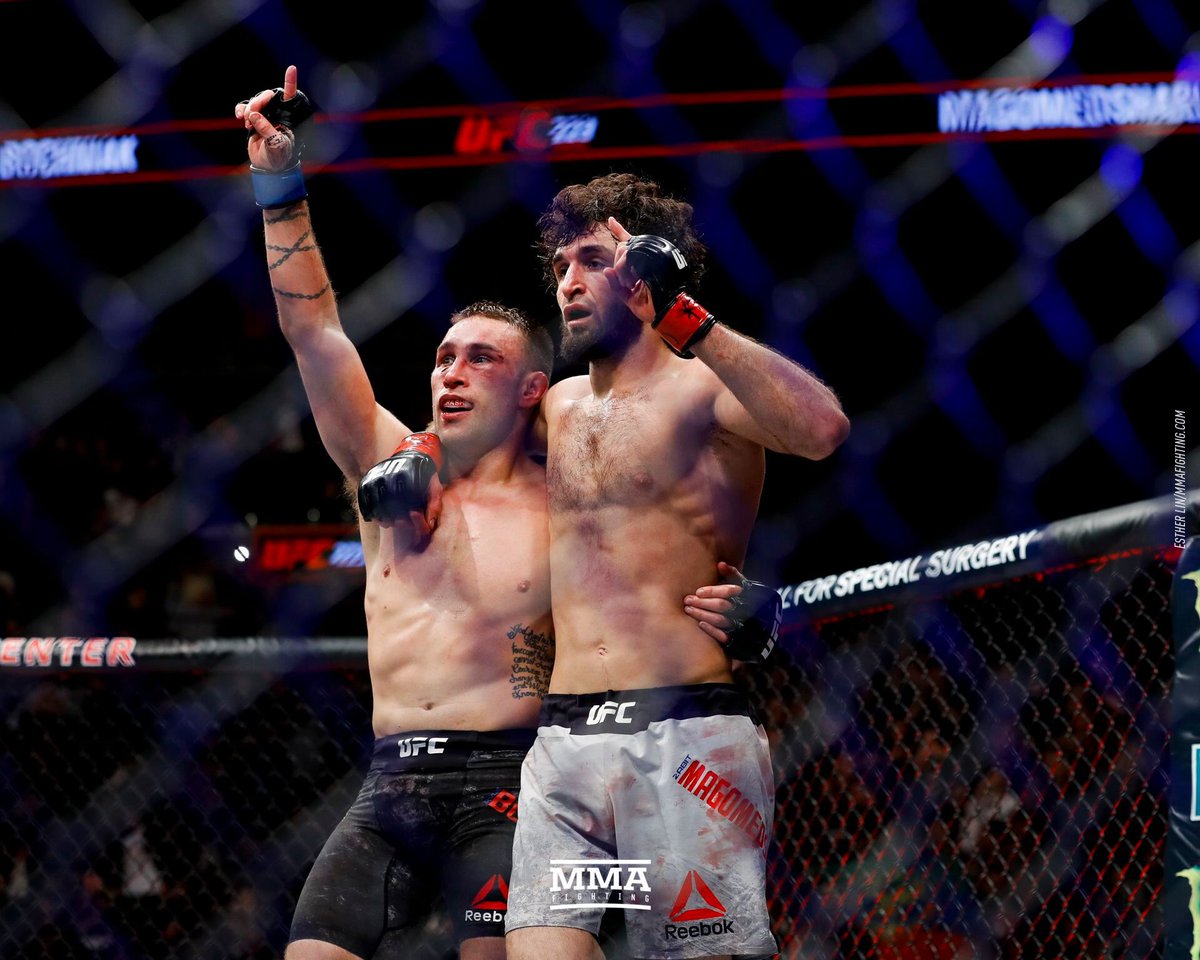 Don't forget to check out Combat Docket for more good reads and post UFC223 fallout.