Happy new year everybody!
2017 is in the past and we're all looking forward (well, we all should) to a great 2018. I wish you all the best and all the rest this new year's day.
One last look at the last year before we move on. They're all mixed bags, right? nothing is good if something isn't bad and nothing's really bad if… you get it. So on we go with:
The Good:
Though I moved here late in 2016, it's 2017 which was the first full year in Mexico for me. En Serio, this was one of the best years of my life so far (and we're talking quite a few years here…). A lot to be thankful for. GREAT people, amazing food, different work experiences, a continued cultural education, all of which leading to a really satisfying and gratifying year. México, ¡te queremos!
I also got the chance to visit Buenos Aires, Argentina as well as Lima, Peru this year. Another one of those things I couldn't imagine in early 2016.
2017 was also the year I got my back side in gear, gathered all of my courage and edited my debut novel (which is actually my second) and am in the process of submissions. This is very exciting for yours truly and I hope 2018 will top it by a nice acceptance letter (hint hint).
I started collaborating with and contributing to two very interesting websites. One is hazavit, which is a Hebrew sports websites managed and updated by true sports fans who want to have an interest free discussion about the athletes, teams and the sports we're passionate about. The other is of course, combat docket, who I'm proud to share my MMA related posts with. A group of real MMA fans, and practitioners who also want a discussion of this sport, that goes past the hype and the chewed up material that circulates in many other outlets. Here are links to my articles on both sites. I hope you read them, then browse for much more content. There are brilliant writers on and I'm sure you'd like what you see.
And just when I thought this year couldn't get any better, came Georges Saint-Pierre, my all time favorite Mixed Martial Artist and after a 4 years hiatus, he took the middleweight title in a spectacular fashion.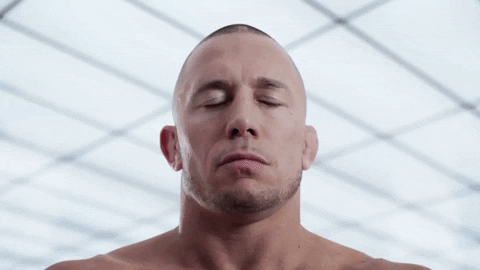 There's a whole lot more to be thankful for, but
Those are things I'm not going to spill over in the interweb.
and
I don't believe in the saying "Count your blessings". You shouldn't count them. Just be thankful. So thanks 2017. You've been good to me.
The Bad:
On a whole other level, 2017 was the biggest bitch since 1994…
Numbers-wise perhaps, 2017 wasn't as bad as say… 2016. But God damn it 2017, you took Chester Bennington. You took Malcolm Young. You fucking took Chris Cornell, and you took Tom Petty, you musical thieving whore!
And The Ugly:
Well, we still have wars raging, hunger devastating lives, greed and corruption everywhere. Nothing new. Just more of the ugly sameness that we can't seem to break off of.
But I am an optimist, and I still (and forever will) believe that the vast majority of humanity is good. And I'm a hopeful person. I know that we're far from done.
On that positive note, let me wish you all a happy new year. Don't be strangers now eh? come back here and check up on me once in a while. Good times ahead!